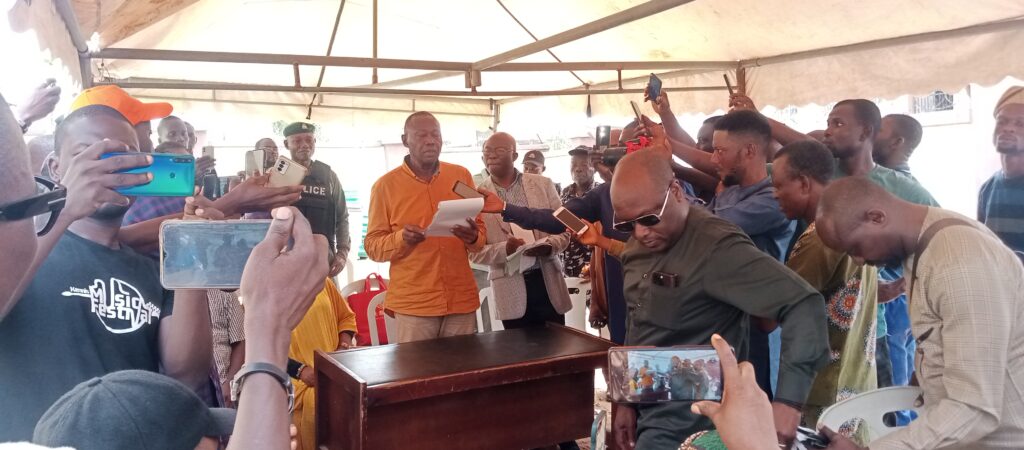 Hon Babajimi Benson, member representing Ikorodu Federal Constituency at the House of Reps has promised a new dawn for Ikorodu Federal Constituency in his third term in office, starting from June 2023.
Hon Benson, Chairman House of Reps Committee on Defence stated this in a chat with newsmen at the INEC Office in Ikorodu shortly after he was declared winner of the Ikorodu Federal House of Reps elections which was held yesterday.
'I have won and I believe the Governor and the Assembly will win as well and create that unbroken chain that the broom which symbolizes our party represents. After that, Ikorodu is set to witness the dawn of a new era, as the saying 'Ikorodu a di headquarter', which means Ikorodu will become the headquarters. We are committed to make it possible', he pledged.
INEC Returning Officer for the House of Reps election, Prof. Victor Ayole declared Hon Benson winner of the election at the Ikorodu INEC office on Sunday.
According to Prof Ayole, Hon Benson Babajimi Adegoke APC polled 60,890 votes, while his closest rival, Olugbenga Shittu of the PDP polled 15,966 votes to come a distant second.
In a chat with newsmen shortly after he was declared winner of the election, Hon Benson expressed deep appreciations to God Almighty, Asiwaju Bola Ahmed Tinubu and the good people of Ikorodu Federal Constituency for giving him the opportunity to serve.
'I feel great, I give all thanks to God, I thank my family, my darling wife, I thank the leadership of the party, I thank Asiwaju Bola Ahmed Tinubu for giving me this golden opportunity, introducing me to politics. I thank the very very good people of Ikorodu federal constituency for giving me this overwhelming mandate again', he stated.
Speaking further, he said, 'I want to thank the traditional institution in Ikorodu Division, the journalists and the average persons on the street for the support. The victory is overwhelming, the affection, I have never seen anything like it, so I am extremely happy, very grateful and emotional for the ringing endorsement. If you look all around Lagos, Ikorodu have done exceedingly well, I give thanks to every one for acknowledging our modest efforts and for turning up to vote for us' noted.
Concluding, he said, 'I thank everyone from the depth of my heart, the reward for hard work is more work, we still have an election in two weeks time and the sixty thousand plus votes we have need to rise up to at least a hundred thousand and I know we can do it. So, once the Governorship is concluded, it means we have an unbroken chain, because I know Asiwaju Bola Ahmed Tinubu will also come out triumphant, likewise Senator Abiru'.
Hon Benson was joined at the historic event by the Ikorodu Division APC Chairman, Hon Tijani Olasunkanmi, Executive Chairmen of Ikorodu North, Ijede and Igbogbo-Bayeku LCDA.
Other APC Chieftains that witnessed the result declaration were the Director-General of the Lagos State Sports Commission, Hon Toyin Gafar, I-Care Foundation DG, Mayor Deen Sanwoola among others.