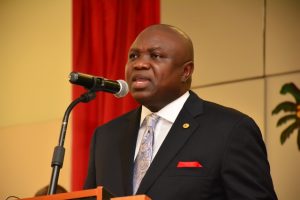 The Lagos State Governor, his Excellency, Akinwumi Ambode, has presented the 2017 budget proposal of #813 billion to the State House of Assembly on Tuesday, 29th November 2016, assuring that the budget will be judiciously implemented to continue the massive infrastructural renewal and improvement of Lagos as one of the foremost investment destinations in Africa.
Governor Ambode, who christened the budget "The Golden Jubilee Budget", as it coincides with the State's 50th anniversary, said the budget would focus on physical infrastructure, while social sectors,  health, education, youth and social development will be given adequate attention.
The key components of the budget would see recurrent expenditure gulp #300.535 billion, while #512.464billion will be dedicated to capital expenditure; which represents a capital and recurrent ratio of 63 per cent to 37 per cent.
The Governor at the budget presentation, which took place at the Lagos State House of Assembly also revealed that his administration will engage in Public Private Partnership (PPP), to execute some road projects, including Oke Oso-Itokin dualisation project in the Epe axis, Ikorodu-Agbowa-Itokin-Ijebu Ode road project in Ikorodu axis, as well as the construction of the Fourth Mainland Bridge in the course of implementing the 2017 budget.
In the budget analysis, a large chunk of the budgeted capital projects are based in Ikorodu Division namely, Agric-Owutu-Arepo Road, Igbe-Igbogbo Phase 2 to Bola Tinubu Way, Ikorodu-Agbowa-Itoikin-Ijebu Ode Road and the 400 Seater Ikorodu Arts Theatre among others.
Governor Ambode also revealed that the overall performance of the 2016 budget of the state as at the end of October stood at 71 percent, adding that the total revenue and capital expenditure also stood at #350 billion and #200 billion respectively.