A group of leaders of thoughts across Ikorodu Division, under the aegis of Ikorodu People's Forum has added their voice to the growing rejection of the proposed Lagos State redelineation of Divisions being proposed by the Lagos State House of Assembly.
The proposed bill, if successful would see to the merger of Kosofe and Somolu local governments with the current Ikorodu Division.
Similarly, the bill also proposed the merger Eti-osa in Lagos Central to Epe Division, while Alimosho in Lagos West is to be merged with Badagry Division of the State.
Rising from its stakeholders meeting held at the Ikorodu Town Hall on Sunday, 14th February, community stakeholders drawn from key Ikorodu Division communities were unanimous in condemning the proposed bill in strong terms, citing incompatibility of Ikorodu Division with Somolu and Kosofe local governments of the State.
The meeting, which was chaired by Alh Babatunde Rotinwa, a retired Lagos State Head of Service and former Chairman, Lagos State Local Government Service Commission and  hosted by a retired Permanent Secretary and Clerk of the State Assembly and Chairman, Ikorodu Oga Development Association (IKODASS) Otunba Ganiyu Olusegun Abiru, reached a consensus to formally communicate the position of the entire Division to the Speaker and Lagos State Government, through a formal petition.
Other leaders at the meeting were, the Agba Akin of Ikorodu, Otunba Ayodele Elesho, a legal parcatitioner and  former Ikorodu NBA Chairman and Community Activist, Barr SOK Shillings among others.
In the petition, Ikorodu People's Forum stated that, 'The I.B.I.L.E configuration of the Divisions is a product of history and long relationship among the people of Lagos State and has been so recognized by law since 1972'.
'Ikorodu Division is composed of towns and communities speaking Ijebu Language and have cultural and historical relationships spanning centuries even before the creation of the State and are pleased with themselves while having cordial relationship with neighbours and other citizens of the State', it stated.
Berating the government of the day for  the current ill-treatment being meted out to the Division, the letter added that, 'While IBILE formula has been the basis for sharing values in the State for a long time, it appears that the formula has been relegated with the consequential marginalization of our Division. The proposed formula therefore will only exacerbate our case as we will now share such values with those who are comfortable with their own Division'.
The Ikorodu People's Forum also opined that for all the good reasons that the Lagos State House of Assembly, particularly the movers and proponents of the bill have in mind in proposing the law, it is not in the interest of the existing Ikorodu Division.
They therefore prayed  for the House of Assembly 'to assist us to put the machinery in motion to make the LCDA's stand as full fledge Local Governments and to ensure a redelineation that will give us additional slots in the House of Representatives'.
See a copy of the letter below;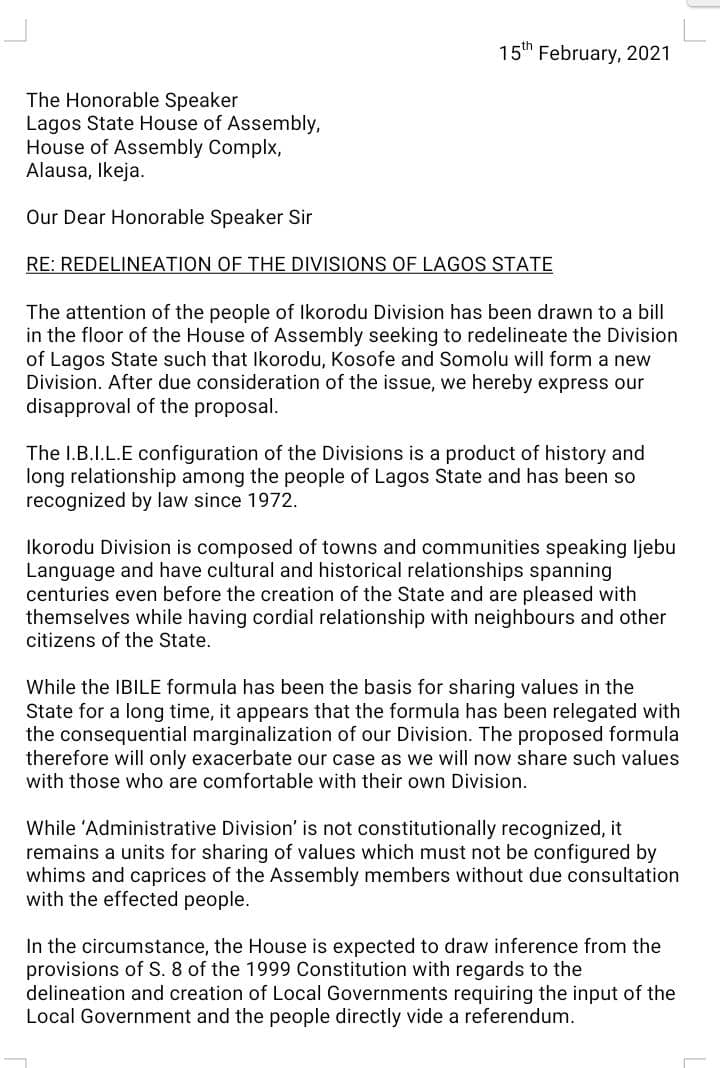 See a copy of the petition below;