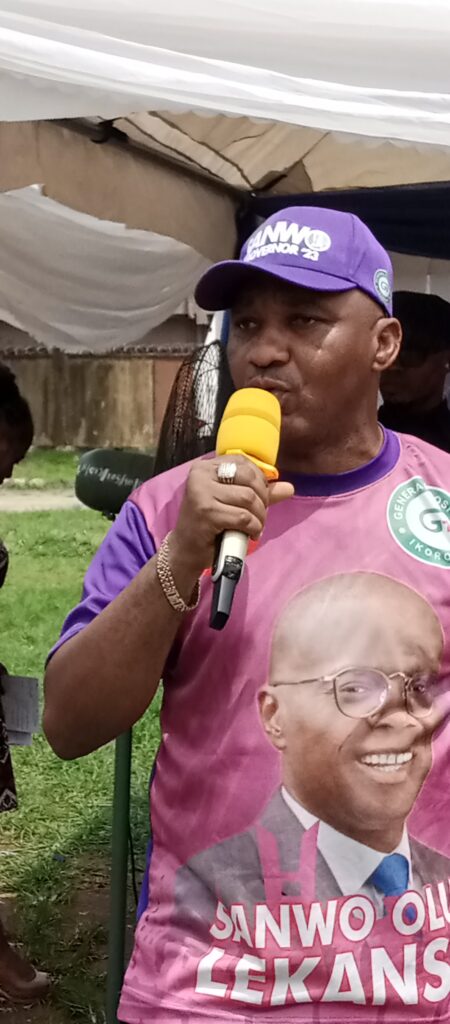 In what has been described as an unprecedented people-oriented initiative, the Lagos State Governor, Mr Babajide Olusola Sanwo-Olu has hosted a massive free medical mission for over a thousand indigent and aged residents of Ikorodu Division.
The event which held at the expansive Ikorodu Ultra-Modern Town Hall was graced by the First Lady of Lagos State and wife of the Governor, Dr Mrs Ibijoke Sanwo-Olu.
The programme was hosted in collaboration with the Ikorodu General Hospital management, under the able leadership of Dr Taiwo Hassan.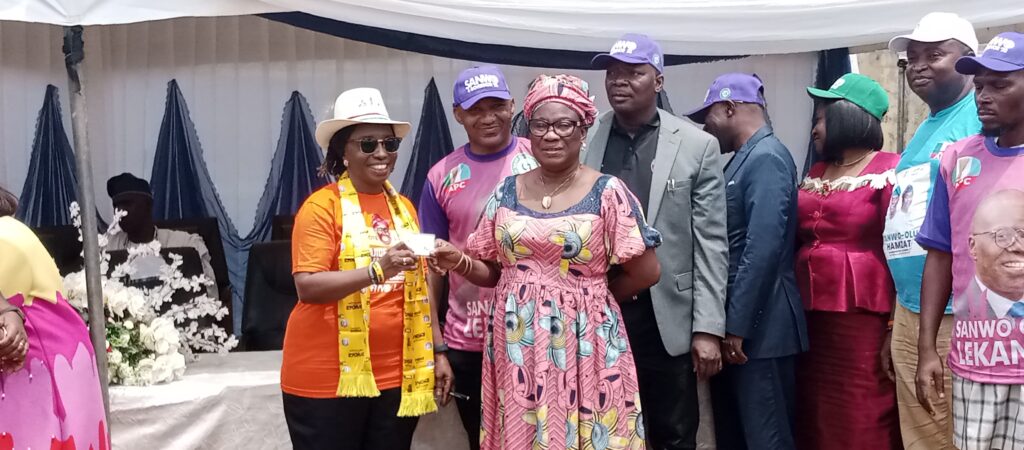 To underscore the importance of the programme, residents started arriving for the programme from as early as 7am for an event slated to start by 9am.
Speaking at the event, Lagos State First Lady, Dr Ibijoke Sanwo-Olu noted that her visit to Ikorodu was simply to show appreciation to residents of Ikorodu for the massive support they gave the party at the Presidential and National Assembly elections.
'I came here to actually to say 'Thank You' to the good people of Ikorodu and to remind them that they should please come out on Saturday. Let us not stay at home on the 11th of March. Let us go to the polling booth in droves, as a family with our PVC to cast our votes for the re-election of Governor Sanwo-Olu and all our House of Assembly candidates', she stated.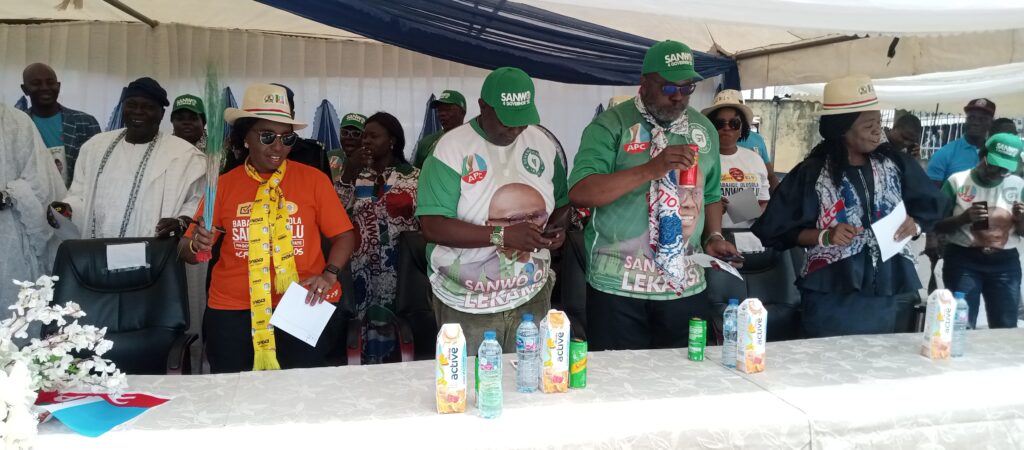 Speaking further, Dr Ibijoke said, 'Governance is about synergy, we need to win both the executive and legislative arms of government to ensure smooth running of government business'.
'This time around, we must win one hundred percent and with a very wide margin. This particular election is different from the last presidential and national assembly elections. If we must continue to enjoy the dividends of democracy in Lagos State, we must value our PVC and treat it as visa for a promising Lagos State', she noted.
The First Lady concluded by appealing to residents not to allow internal wranglings affect the outcome of Saturday's election. She admonished residents to borrow a leaf from other tribes who despite their internal issues voted massively for one of their owns.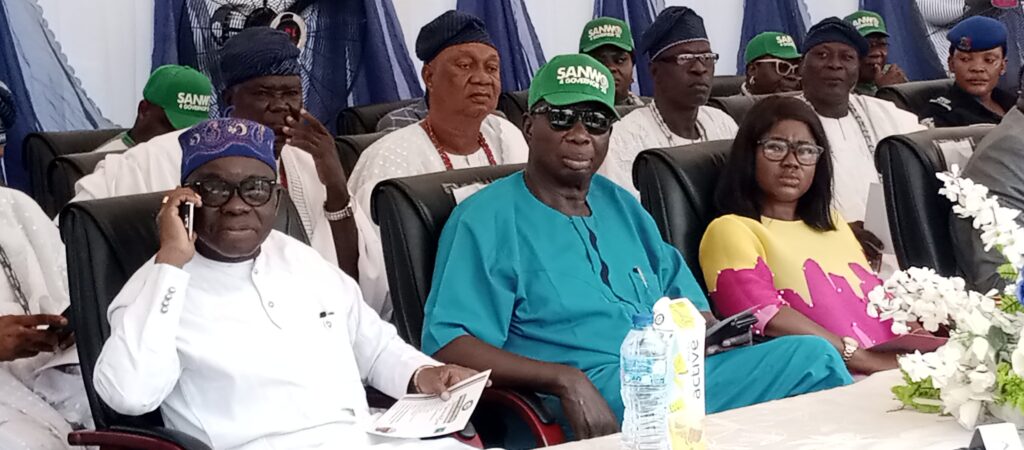 She equally commended Dr Taiwo Hassan for providing quality and excellent leadership for the Ikorodu General Hospital.
'I want to specially thank you, Dr Taiwo Hassan, MD/CEO Medical Director of Ikorodu General Hospital, I can see your hands. I see all your good works. I am indeed very jealous of the people of Ikorodu', she said.
Earlier, in his welcome address, MD/CEO Ikorodu General Hospital, Dr Taiwo Hassan explained that the Ikorodu Medical Mission was an initiative of Governor Babajide Sanwo-Olu. He also stated that, compared to previous administrations in Lagos State, Governor Sanwo-Olu has invested more into the development of the Lagos State health sector, particularly in Ikorodu General Hospital.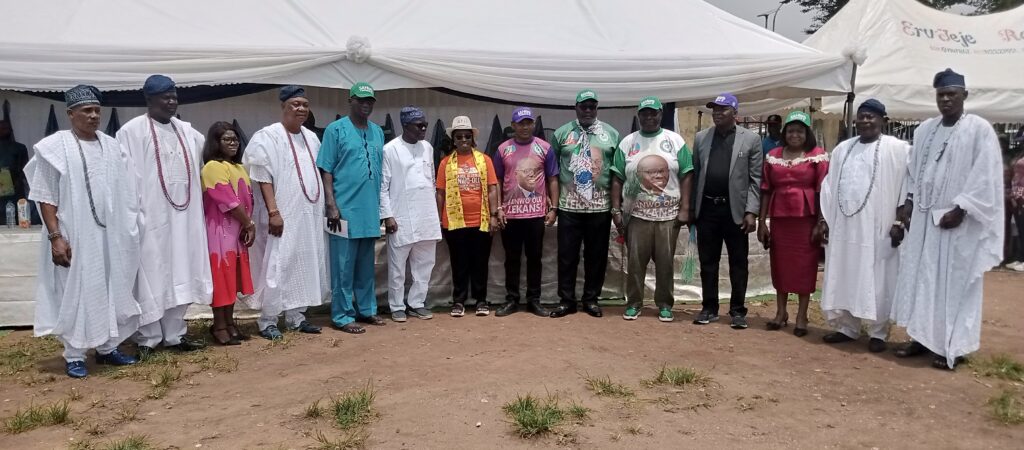 'For the first since since the General Hospital was built over 39 years ago, we can now boast of a lift in Ikorodu General Hospital. Governor Sanwo-Olu made it possible', he said.
'Similarly, Governor Sanwo-Olu also gave us a well-equipped Intensive Care Unit for accident and emergency patients. We also enjoy about 20 hours daily uninterrupted power supply at the General Hospital because the Governor ensured we were connected to 33KVA transformer, compared to the initial 11KVA which only supplied us with just 8 hours of electricity per day. All our wards are now wearing new look', he noted.
'All the good developments you see at our General Hospital today are the good works of Babajide Sanwo-Olu. This is the reason I am appealing to all of you to go out on Saturday and vote for Governor Sanwo-Olu so that we can continue to enjoy good health policies and programmes', he stated.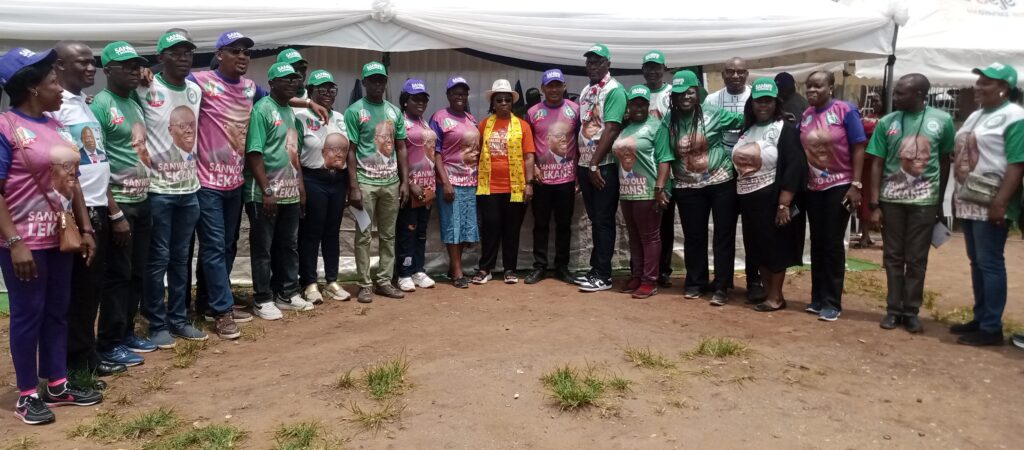 Dr Hassan also announced the donation of 1,000 free 'Ilera Eko' Health Insurance Scheme to residents, courtesy of the Lagos State Governor.
A major highpoint of the event was the presentation of the Ilera-Eko card to some beneficiaries.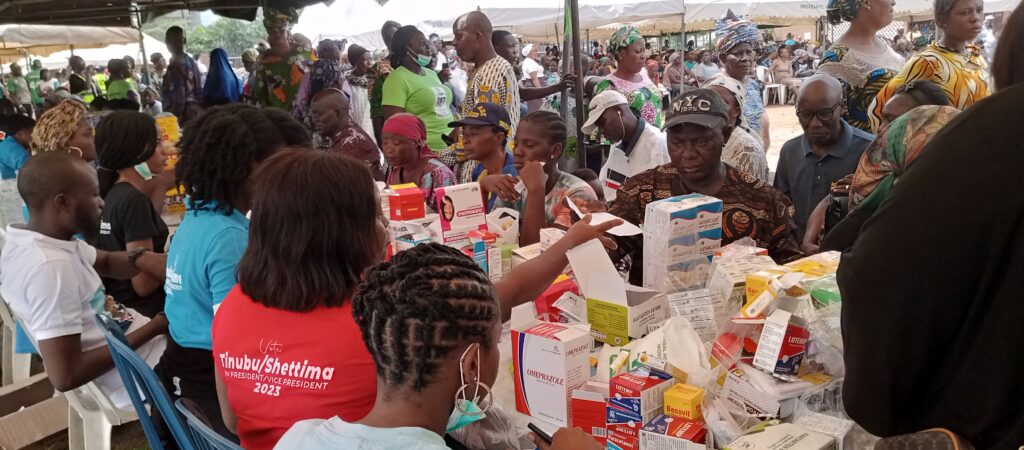 Otunba Ayodele Elesho, the Agba Akin of Ikorodu who represented the Ayangburen of Ikorodu, Oba Kabir Adewale Shotobi, in his speech assured the First lady that the traditional institution in Ikorodu has done the needful by engaging all community stakeholders, CDAs and CDCs, with a view to delivering massive votes for the APC in Saturday's election.
He also appealed to residents to conduct themselves peacefully before, during and after the election so that peace can be maintained in the state.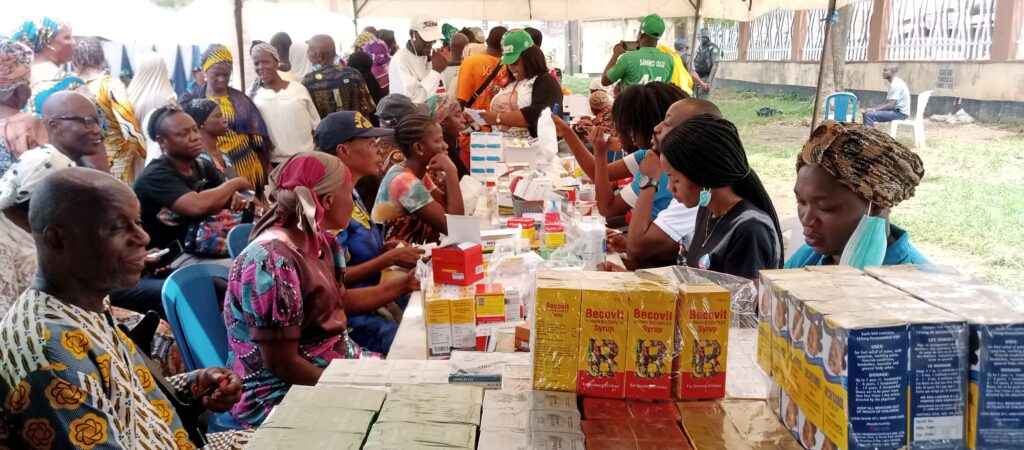 Speaking to Ikorodu Oga Radio, an aged beneficiary, Madam Kudirat Onibudo expressed appreciations to Governor Sanwo-Olu for the good gesture.
She also appealed to Ikorodu residents to troop out and vote to re-elect Governor Babajide Sanwo-Olu and all the Assembly Candidates.