The newly inaugurated executives of Ikorodu Oga Development Association, IKODASS, led by Otunba Ganiyu Olusegun Abiru has vowed not to leave any stone unturned towards hosting a well attended and most successful 2017 Ikorodu Oga Day celebrations.
Abiru stated this, while reeling out the series of events lined up for the week-long celebration of Ikorodu Day at a media parley with journalists in Ikorodu. The highlight of the press parley was the formal unveiling of the official logo for the 26th edition of the annual socio-cultural event.
To activate its publicity and awareness strategy, Otunba Abiru also unveiled an outdoor campaign strategy tagged, Ikorodu Oga, My Heritage, aimed at creating awareness and mobilising residents and stakeholders, towards effective participation in the 2017 Ikorodu Oga Day Celebrations.
The publicity strategy, according to Abiru,'is to avail our distinguished sons and daughters a unique opportunity to identify with their ancestral heritage, through the publicity initiative. On the other hand, the campaign is intended serve as a medium of taking the message of the Ikorodu Oga Day 2017 to the nooks and cranny of the community'.
Abiru added that 'the association will be organising  a Walk for Fitness exercise to sensitize the people of the town towards the coming event as well enjoining the populace on the importance of exercise in order to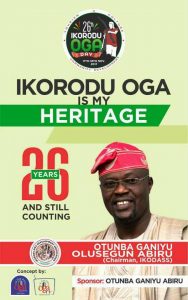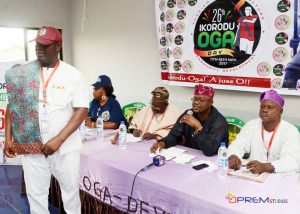 stay healthy and medically fit', he said.