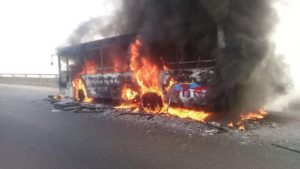 A bus belonging to the LAGBUS scheme of Lagos state was completely burnt in an accident that occurred around the Oworosonki area close to the Third Mainland Bridge in Lagos on Monday, 19 December, 2016.
Details are still sketchy about what actually caused the accident but the vehicle was completely burnt with sources saying it resulted in heavy traffic build-up around the corridor.
The government is yet to release any statement concerning the incident and whether there are casualties.
Tribune reports that at the time of this report however, the burnt vehicle had been evacuated by officials of the state government.