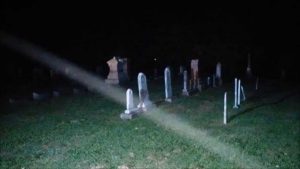 In a worrisome and disturbing development, it has been discovered that buried human parts are found to stick out from shallow graves at Imota public cemetery.
It is a common practice for corpses to buried six feet below the ground, but the case at Imota public cemetery is not so as horrible sights of dead bodies has been circulating and trending on the social media in the past few weeks.
In one of the pictures, a dead man's leg was visibly coming out of the shallow grave while other pictures contain similar gory sights.
According to a Galaxy Television news report, monitored by Ikorodu Oga Radio, it was gathered that the practice at the Imota cemetery has been to bury corpses in very shallow graves, thereby making the cemetery the first point of call to ritualists and human part traders.
Residents who live close to the cemetery have also confirmed the unfortunate practice, with calls on the appropriate authorities to come to their rescue before the stench emanating from the grave site leads to a major outbreak of diseases.
The management of Ikorodu Oga Radio out of its own discretion and respect for people's sensibilities have refrained from using the gory images because of its offensive nature to members of the general public.