There is an air of fresh breadth and dawn of a new era in the Ikorodu Chamber of Commerce and Industry as the recently elected executive council members, led by Chartered Engineer and Construction Engr HOB Lawal, Chairman / CEO, Consteng Engineering Construction Ltd formally takes oath of office.
The new executive members, comprising of nineteen accomplished professionals and astute businessmen and women took their ceremonial oath of office on Thursday, 8th November, 2018 at an exclusive formal inauguration ceremony at the Ikorodu Town Hall. The event, which was chaired by a retired Director in the federal ministry of Environment, Engr 'Laitan Onalaja was witnessed by the who-is-who's across the Ikorodu division business sector.
A major highlight of the inauguration was the unveiling of a newly branded ICCI Logo, which we gathered was a strong message, meant to demonstrate the commitment of the new ICCI executive council to re-position the chamber into a vibrant rallying point for all businesses across Ikorodu division.
In his acceptance speech, Engr Lawal pledged the commitment of his new executive council members, 'that, we shall in the next two years, strive to justify the confidence reposed in us by ensuring that Ikorodu Division assumes its pride of place in the comity of progressive cities in Nigeria and the world'.
He also commended the immediate past executive led by Barr Jamiu Adio Saka for providing a strong foundation for the new executive to build upon.
Some of the distinguished guests that graced the historic event include, Barr (Mrs) Kehinde Oladunjoye, Honourable Commissioner for Commerce and Industry, represented by Mr Lekan Ogunbowale, a past president of NACCIMA, Dr HAB Ajayi and Vice Chairman, Ikorodu local government, Princess Folashade Olabanji-Oba among others.
Earlier, the newly inaugurated exco kick-started its official activity with familiarization visits to Traditional Rulers, within Ikorodu Division to interact with the riyal fathers and to also our attract attract credible and viable companies within Ikorodu Division to join the chamber for the advancement of Ikorodu Division as well as Lagos State industrially and commercially.
Ikorodu Chamber of Commerce and Industry was incorporated in 2011 and has since then represented, supported and protected the interest of the business community in Ikorodu Division as well as liaising with Government and Private Sector Operators within and outside Lagos and Nigeria with a view to promoting, attracting and increasing trade and industrialization, among other things in Ikorodu Division as well as Lagos state and the nation.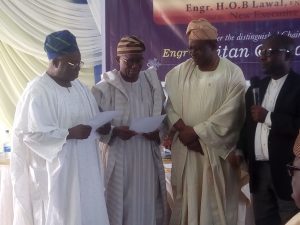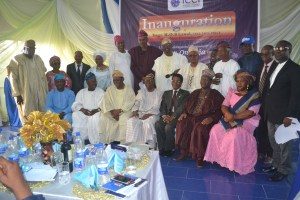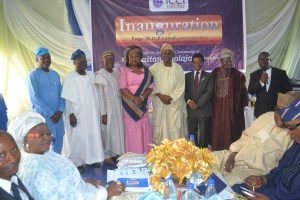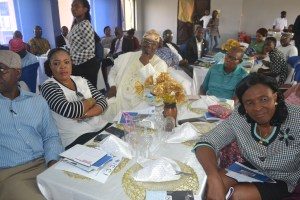 Below is the full list of the newly inaugurated ICCI executive council members;
Engr. H. O. B. Lawal                                     –President
2. Prof. (Chief) Kunle Ade Wahab.            -1st Deputy President
3. Sir Engr. R. O. Shoderu.                         -2nd Deputy President
4. Rev. Col. (Rtd) B. T. Onafowokan.        -Vice President
5. Chief Oloruntele Oduloye.                      -Vice President
6. Alhaja K. O. Lamina.                              –Treasurer
7. Alhaji Kolawole Fatai.                            -Deputy Treasurer
8. Legal Adviser.                                         –Vacant
9. Alhaji Mukaila Afolabi.                          -Public Relations Officer
10. Prince Jamiu Adio Saka.                       -Immediate Past President
11. Engr. Lukeman Erogbogbo.                  – Ex-Offico Elected.
12. ACP Opoola A. Taiwo (Rtd)                – Ex-Offico Elected
13. Alhaja M. O. Oduloye.                         – Ex-Offico Elected
14. Hon. Ganiu O. Abiru.                           – Ex-Offico Elected
15. Mrs Adeola Elliot.                                – Ex-Offico Elected
16. Mrs Folake Jayeoba.                             – Ex-Offico Elected
17. Chief Kaoli Olusanya.                          – Ex-Offico Elected
18. Mr. Adewale Disu.                               – Auditor
19. Chief Michael Ojo, MNIM.                 -Director General