For the second time in lesa than one month, the newly opened National Open University, Ikorodu Model Study Centre has received endorsement of important Ikorodu Division stakeholders.
Recall that, Ikorodu Oga Radio reported that the University received endorsement and donation of a school building from Hon Jimi Benson, Chairman House of Reps Committee on Defense few weeks ago,when the Centre Director, Prof Ajibola Saheed led his team to pay a courtesy visit to the federal lawmaker at his Constituency Office in Ikorodu.
This time around, the Ayangburen of Ikorodu and Permanent Vice Chairman of the Lagos State Council of Obas and Chiefs, Oba Kabir Adewale Shotobi has given his royal blessing to us federal university.
Oba Shotobi gave his blessings to the University on Monday, when the Centre Director, Prof Ajibola Saheed led his principal officers on a courtesy visit to the monarch at his palace in Ikorodu.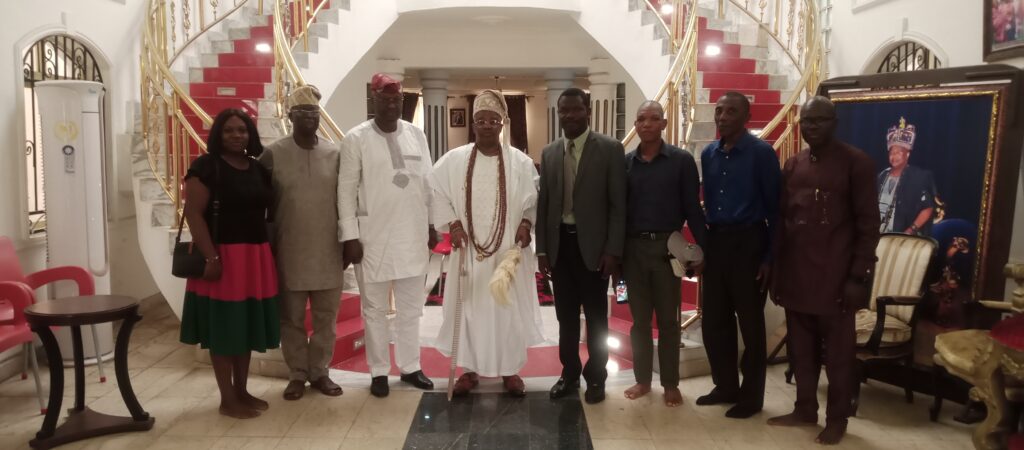 Oba Shotobi also announced the donation of five (5) acres of land to the federal university, as a form of support for the expansion of the University campus facility.
'I am really really happy about the coming of the Open University to Ikorodu Division. We have been praying for the upgrading of Lagos State Polytechnic to a University and it has happened, we have also prayed for the upgrading of our General Hospital into a Teaching Hospital, that is already on-going. Now that you have started the Open University Ikorodu Model Study Centre here, I am so delighted', Oba Shotobi stated.
Speaking further, the revered monarch also assured Ajibola and his team of his total support.
'Whatever form of assistance you may require from me, I am ready to give you every support you need. Once you need me or my assistance, I am at your service', Oba Shotobi promised.
Addressing the Ayangburen earlier, Prof Ajibola noted that the coming of the Open University Model Study Centre in Ikorodu is very strategic, compared to Community Study Centres approved for other communities.
'My Vice Chancellor, Prof Peters hold Ikorodu in high esteem and he has the best plan for NOUN Ikorodu. This is the reason he approved a Model Study Centre for Ikorodu, unlike what obtains elsewhere. His vision is to make the Ikorodu Study Centre one of the best in Nigeria', he stated.
'I am also highly delighted that the vision for the Ikorodu Study Centre of the National Open University of Nigeria is coming to fruition during your reign, Kabiyesi. This is a project that has been in the pipeline for about ten years. I say a big Congratulations to you, Kabiyesi', he added.
Ajibola however lamented very low enrolment among Ikorodu Division indigenes, compared to the rate of enrolment among non-indigenes. He appealed to Oba Shotobi to help encourage Ikorodu Division indigenes to take advantage of the citing of NOUN in Ikorodu for the furthering of their educational pursuit.