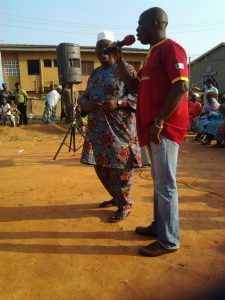 Founder of Bolowotan FC, Mr Toyin Gafar a.k.a Bolowotan, an aspirant for the Ikorodu constituency 1 seat of the Lagos state House of Assembly in the forthcoming 2019 election on the platform of the ruling APC, on Wednesday, 15th August held its inaugural LGA meeting for supporters across Ikorodu local government of the constituency. The meeting, which we learnt was organised to mobilize support for the APC House of Assembly aspirant.
Speaking at the event, an APC leader, Hon Alhaji Dulla, stated that "nobody is Tinubu's favourite, everyone should vote for whomever they see qualified to occupy the seat."
He urged everyone to invite people to their wards and ensure they have their APC membership card. Another APC member from Ikorodu central, Oladele Ogunfodunrin who also doubles as Moderator for the Bolowotan Campaign team said the aim of the program was to sensitize all party members that they can vote and they have a very important role to play in the party primaries. He also urged the media to persuade INEC to decentralize Permanent Voters Card (PVC) registration and collection, if possible, to the ward level.
Oladele reiterated that, Bolowotan is the best candidate for the Ikorodu House of Assembly seat, due to his passion for the people, which is evident from his own personal contribution and support to the people on a daily and monthly basis. He added that the direct primaries is a welcomed development and a proof of true democracy by the leadership of the ruling APC.
Another APC chieftain and director of Bolowotan grassroot outreach, Hon. Prince Adedeji Osho said that the LGA meeting was organised towards mobilizing residents of Ikorodu LGA for the forthcoming primaries for Lagos state House of Assembly. He commended Hon. Bolowotan for his contributions in the private sector in human capacity development, to the less-privileged and in education. Prince Adedeji further stated that Hon Toyin Gafar Bolowotan has greatly improved the lives of many Ikorodu youths, hence qualifying him as the perfect candidate.
The event was attended by party members and residents, across Ikorodu central.